LEGAL SERVICES BRIEFING ON CHANGES IN PUBLIC BENEFITS & FEDERAL STIMULUS PAYMENTS
For our community partners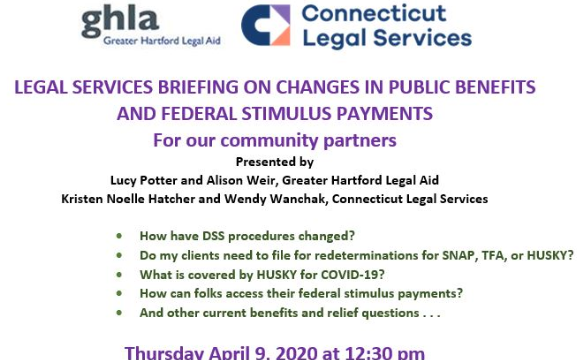 Presented by
Lucy Potter and Alison Weir, Greater Hartford Legal Aid
Kristen Noelle Hatcher and Wendy Wanchak, Connecticut Legal Services
How have DSS procedures changed?
Do my clients need to file for redeterminations for SNAP, TFA, or HUSKY?
What is covered by HUSKY for COVID-19?
How can folks access their federal stimulus payments?
And other current benefits and relief questions. .
Thursday April 9, 2020 at 12:30 pm
Call-In #: (860) 541-5012 Conference ID 59705 (push #)
Please RSVP to BenefitsBriefing@ghla.org and send your questions!