For our community partners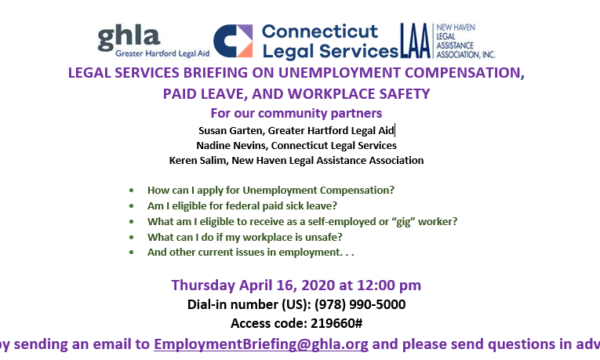 Susan Garten, Greater Hartford Legal Aid
Nadine Nevins, Connecticut Legal Services
Keren Salim, New Haven Legal Assistance Association
• How can I apply for Unemployment Compensation?
• Am I eligible for federal paid sick leave?
• What am I eligible to receive as a self-employed or "gig" worker?
• What can I do if my workplace is unsafe?
• And other current issues in employment. . .
Thursday April 16, 2020 at 12:00 pm
Dial-in number (US): (978) 990-5000
Access code: 219660#
RSVP by sending an email to EmploymentBriefing@ghla.org and please send questions in advance!