CLS and McCarter & English have partnered to create a Criminal Pardons Clinic in Stamford
Due to the COVID-19 crisis all of in person clinics have been suspended/cancelled until the foreseeable future.
Pro Bono attorneys will help low-income Fairfield County residents who have criminal records to apply for a pardon. There is no fee for our services.
The clinic is by appointment only
The clinic is by appointment only. Potential applicants should call 203-399-5914 for an appointment.
The clinic is held on the third Tuesday of each month at the offices of Connecticut Legal Services, 1177 Summer St., 4th floor, from 5:30 – 7:30 p.m.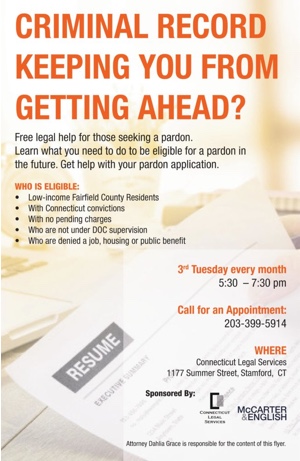 "Thank you for your help…I feel like a terrific weight has been taken off of me. You can put me down as very satisfied."

CLS client